Lightfair 2017 is just around the corner and Avi-on Labs is Philadelphia bound.   Last year was our biggest year ever and we are headed to the Pennsylvania Convention Center where our smart products and controls will be on full display.
Don't miss our featured:
Commercial Controls
Warehouse Controls
Outdoor Controls
Tunable White and Color Controls
As well as our latest 5-way Controls and Pro releases.
We look forward to showing you how we deliver new value and quicker turnaround with the Avi-on ecosystem bringing simplicity and quality to your business, office or life.
Come see us at Lightfair 2017
Pennsylvania Convention Center
Booth # 457
May 9-11
As the most advanced bluetooth lighting player, we have naturally extended our lighting leadership into the Internet of Things (IoT) taking light beyond illumination. Make an appointment for a personal demonstration at Lightfair in historic Philadelphia to see how Avi-on can help improve your business.  Be sure to follow the Avi-on blog to keep up on the latest Avi-on news about Lightfair International 2017 and the world of "Simple Bluetooth Controls".

4 MUST SEE new lighting controls we will be showcasing at LFI 2017.
---
Avi-on Tunable White Lighting Controls
Create beautiful, flexible spaces with selectable white lighting
With Avi-on tunable white lighting controls you can tune lighting to your specific needs.  By personalizing light, you can enhance productivity, tune for special health needs, or transition for specific scenes and spaces.
Select your specific white light, enhance your interiors.
Be productive, be reflective.
Focus on tasks, throw a party.
Wake up, wind down.
Remote Access Bridge + Voice Control
Use the Amazon Echo to Control Your Avi-on Devices

Yes, you're reading this correctly.  Avi-on has gone Wi-Fi.  Don't worry, we still produce the award winning Bluetooth + Mesh products we've helped pioneer, but now you can connect your Bluetooth network to the internet, thanks to the Avi-on Remote Access Bridge..
This means you can now control your devices from anywhere in the world as long as you have an internet connection.  It also means voice control has become a large part of the Avi-on ecosystem.
Automation has a whole new meaning when you can use simple voice commands to control your devices or dim your lights.  The Amazon Echo and Amazon Echo Dot will be featured at Lightfair showing off Alexa integration and how simple voice control can be.
Avi-on Wireless Movable Switch
Rewire without wires with the Movable Switch by Avi-on
The Avi-on Pro Movable Switch lets you relocate existing switches, or mount new switches anywhere in your home or office—without having to change or add wiring in your walls. Use it with Avi-on smart switches and dimmers to add multi-way functionality and add wireless control to any light or group of lights. Mount the movable switch to any surface to add convenience and increase user accessibility.

Avi-on In-Wall Controller
All the functionality of the Avi-on Movable Switch in a wired format.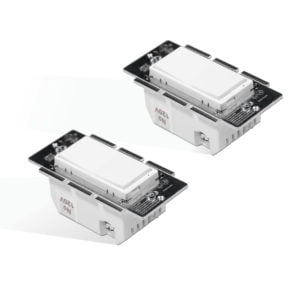 Avi-on's In-Wall Controller offers perfect control beyond smartphone control.  It has long been thought that a house becomes a home when we make it reflect who we are, when we personalise it.  Avi-on's In-Wall Controller helps to create the perfect ambiance for your home or office, and then some. Each controller gives you perfect control and perfect intelligent automation.
With the Avi-on In-Wall controller you can remodel without having to change or add wiring in your walls or use it in new builds to create the automation and control you need for every situation. Control any Avi-on smart switch or dimmer to add multi-way functionality or control any light or group of lights with the most simple setup available.