The Direct Connect™ Microwave Occupancy & Daylight Sensor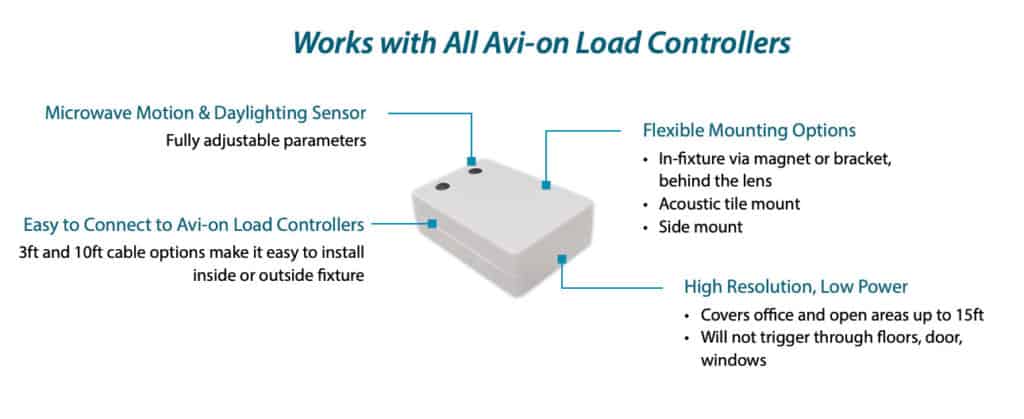 Description
The Direct Connect™ Microwave Occupancy &  Daylight Sensor provides motion detection and/or daylight harvesting in a highly compact unit. Microwave sensing technology works with any Avi-on® load controller. The sensor is an integral  part of  the Avi-on Bluetooth® with Mesh product ecosystem including the ability to support Luminaire Level Lighting Control (LLLC) and/or groups of fixtures. The network auto detects the sensor locations and commissions them into the system with their associated fixtures. Configuration is done using the Avi-on mobile app, commissioning tools, and cloud IoT Services remotely or on-site.
Operation
The sensor receives communication and power from any Avi-on load controller via a Avi-on standard low voltage cable. The motion sensor supports a wide array of control strategies including occupancy, vacancy, bi-level, scheduled operation, even safety presence detection for UV-C lighting.  Daylight sensing can apply to zones of fixtures as required by code.
Applications
The versatile design and mounting options make this sensor a great solution for commercial and institutional applications such as offices, schools or common areas, and behind the lens for sealed fixture low bay applications. 
The sensor can be mounted in many different ways including behind the lens using an innovative magnetic mounting clip, screw using elbow or flush brackets, or clipped to acoustic tile rail on the edge of the fixture with the supplied tile clip. The microwave pattern can be tuned to a variety of applications up to 15 feet using the mobile app or remote commissioning tools. The low power unit will not shine through floors, walls, or windows.
Microwave Sensor
PARTS & ORDERING
Select a part number from the table listed below

| Part Number | Description | Application | Color |
| --- | --- | --- | --- |
| AVI-DC-MW | Direct Connect™ Microwave Occupancy &  Daylight Sensor | In-fixture, Tile Mount, Indoor | White |
| AVI-DC-10FTCBL | 10ft (3m) Direct Connect™ Cable* | In-fixture, Indoor/Outdoor | Gray |
| AVI-DC-MAG | Microwave Magnetic Mount** | In-fixture, Indoor | Gray |
*Includes acoustic tile rail mount clip and 3ft cable.
**Accessory
The Avi-on family of products consists of load controllers, sensors, wall stations and connectivity products that work together in one big happy family.  Load controllers manage dimming, schedules, scenes, groups/zones and more while the sensors are able to detect motion with all new state-of-the-art features. These products work seamlessly with the Av-ion cloud to provide a robust wireless ecosystem.