In-Fixture OEM
PIR/Daylight Sensor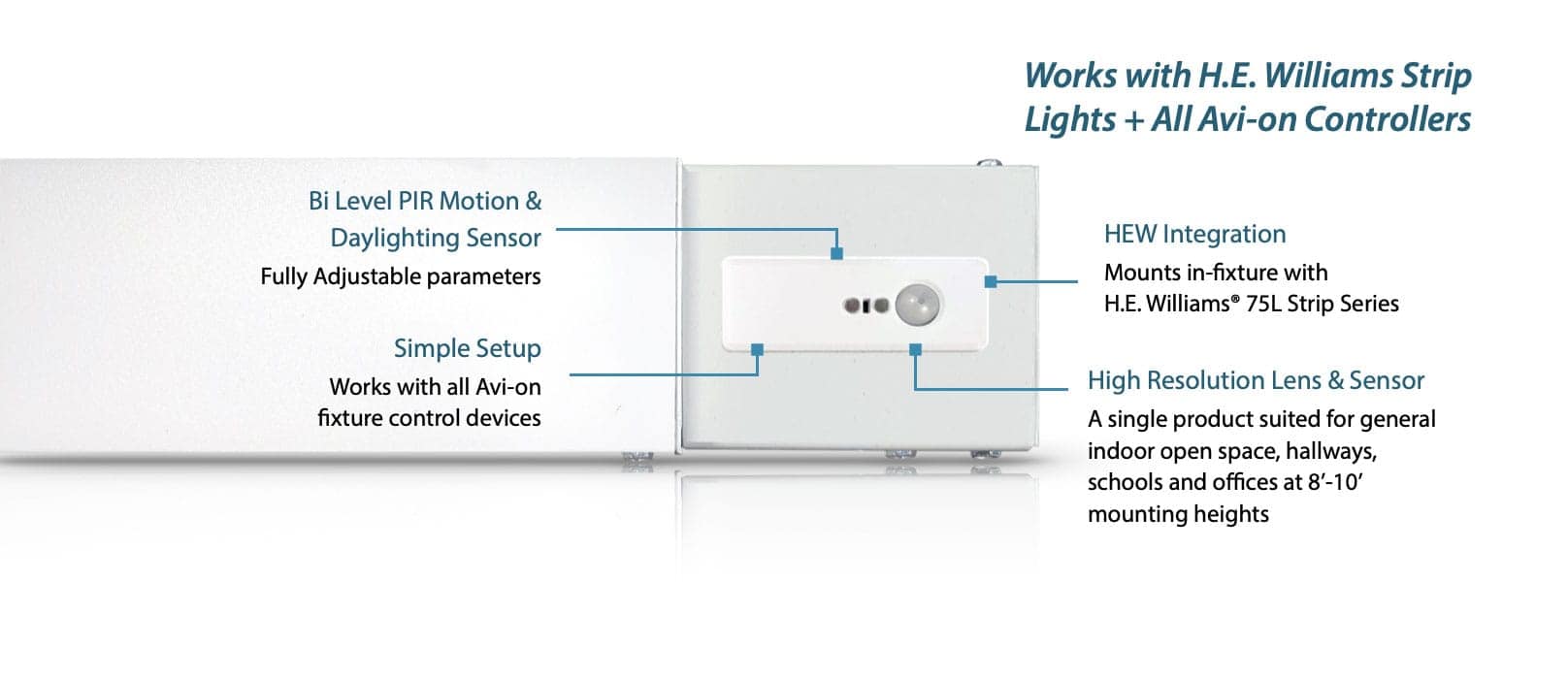 The Avi-on® In-Fixture PIR Sensor provides motion detection and/or daylight harvesting in a single, compact unit. It is available from HE Williams pre-installed in the HEW 75L Fixture, creating a cost-effective and truly wireless plug-and-play solution for almost any indoor/office lighting application. The PIR and daylight sensor meet all code requirements including the ability to support Luminaire Level Lighting Control (LLLC), IEE 2018, ASHRAE 90.1, and Title 24. Despite having a sensor in every fixture, the lights can be configured to control in zones, eliminating the "popcorn ceiling" effect so commonly found in other sensor per fixture products. The Avi-on network auto-detects the sensor locations and commissions into the system with its associated fixture, making commissioning truly simple. Configuration can be done using the Avi-on mobile app, laptop commissioning tools, and cloud IoT services remotely or on-site. 
The CS2 PIR sensor is powered by any Avi-on fixture-mounted control device, including the IFAC, LVFA, or XPP product lines, using a provided Direct Connect™ cable.
The motion sensor supports a wide array of control strategies including Occupancy, Vacancy, Bi-Level, on individual fixtures or zone based operation. Daylight sensing can apply to zones of fixtures as required by code. The sensor operations can be scheduled for different times of day as well.
The fixture integrated design make this sensor a great solution for indoor, institutional and office applications such as commercial spaces, offices, schools or common areas. The high lens allows for mounting heights ranging from 8ft to 10ft. Sensitivity levels, dimming levels, and timeouts for different applications are easily set locally or remotely using the Avi-on commissioning Digital Toolkit.
Select a part number from the table listed below

| Part Number | Description | Application | Color |
| --- | --- | --- | --- |
| AVI-DC-CS2-PIR | OEM Fixture Mounted PIR & Daylighting Sensor & 1m Cable | In fixture | White |
The Avi-on family of products consists of load controllers, sensors, wall stations and connectivity products that work together in one big happy family.  Load controllers manage dimming, schedules, scenes, groups/zones and more while the sensors are able to detect motion with all new state-of-the-art features. These products work seamlessly with the Av-ion cloud to provide a robust wireless ecosystem.