The Direct connect
OUTDOOR PIR Sensor WITH DAYLIGHTING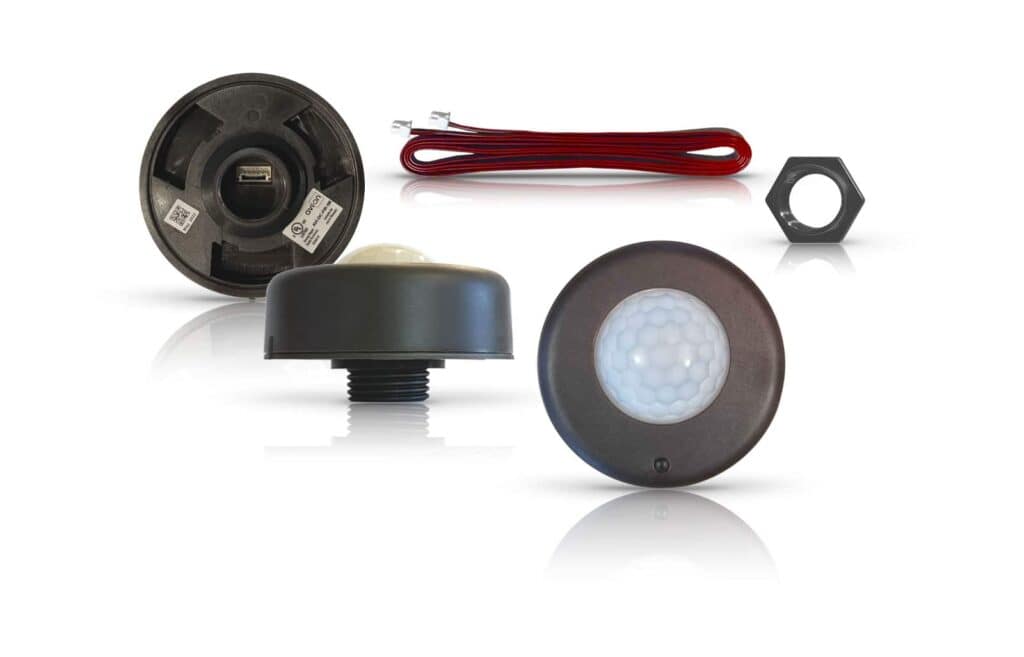 Description

The Avi-on® Direct Connect™️ PIR Outdoor Sensor provides motion detection and/or daylight harvesting in a single compact unit. Passive Infrared (PIR) sensing technology works with any Avi-on fixture & zone controller. The outdoor version is UL Outdoor rated, including special F1 plastic carrying long term UV and weather resistance.  The sensor is an integral  part of  the Avi-on Bluetooth® with Mesh product ecosystem and can control individual or groups of fixtures. The network auto detects the sensor locations and commissions into the system with its associated fixture. Configuration is done using the Avi-on mobile app, commissioning tools, and cloud IoT Services remotely or on-site.
Operation
The sensor receives communication and power from any Avi-on Fixture or zone controller via an Avi-on standard low voltage cable. The motion sensor supports a wide array of control strategies including Motion detection, Bi  Level, day/night photocell, scheduled operation, even daylight harvesting.
Applications
Any covered or non covered parking, area, walkway, or other outdoor setting up to 40 feet.  Sensitivity levels for different applications are easily set locally or remotely using the mobile app.  The IP67 rating assures long term reliable operation.
The outdoor sensor is rated for installation into fixtures knockouts (downward facing) or watertight junction boxes using the supplied gasket to assure a watertight connection.  The Avi-on mounting elbow is not rated for outdoor applications.
PIR Sensor
PARTS & ORDERING
Select a part number from the table listed below

| Part Number | Description | Application | Color |
| --- | --- | --- | --- |
| AVI-DC-PIR-OA | Direct Connect™ Outdoor PIR & Daylighting Sensor | In-fixture, Indoor/Outdoor | Bronze |
| AVI-DC-ELB | End-Cap mounting bracket | In-fixture, Indoor/Outdoor | White |
| AVI-DC-10FTCBL | 10ft (3m) Direct Connect™ Cable | In-fixture, Indoor/Outdoor | Gray |
The Avi-on family of products consists of load controllers, sensors, wall stations and connectivity products that work together in one big happy family.  Load controllers manage dimming, schedules, scenes, groups/zones and more while the sensors are able to detect motion with all new state-of-the-art features. These products work seamlessly with the Av-ion cloud to provide a robust wireless ecosystem.