12V Power Supply
With Relay
Avi-on power supplies are designed to offer flexible control for commercial and industrial lighting applications. They operate in a wide range of applications that require high voltage switching (120-277VAC) of an LED driver, in addition to powering low voltage controls and sensors. The AVI-PSR10-277-12-350 is designed primarily for individual fixture control applications and is not applicable for 16A circuit-based control or plug loads. The AVI-PSR10-277-12-350 consists of a zero-cross lighting-rated relay and a 12VDC low-voltage power supply output. Please note that a 100mA supply current may not be sufficient to power all attached sensor types in addition to fixture control; consider using AVI-PSR10-277-12-250 if a higher capacity is needed.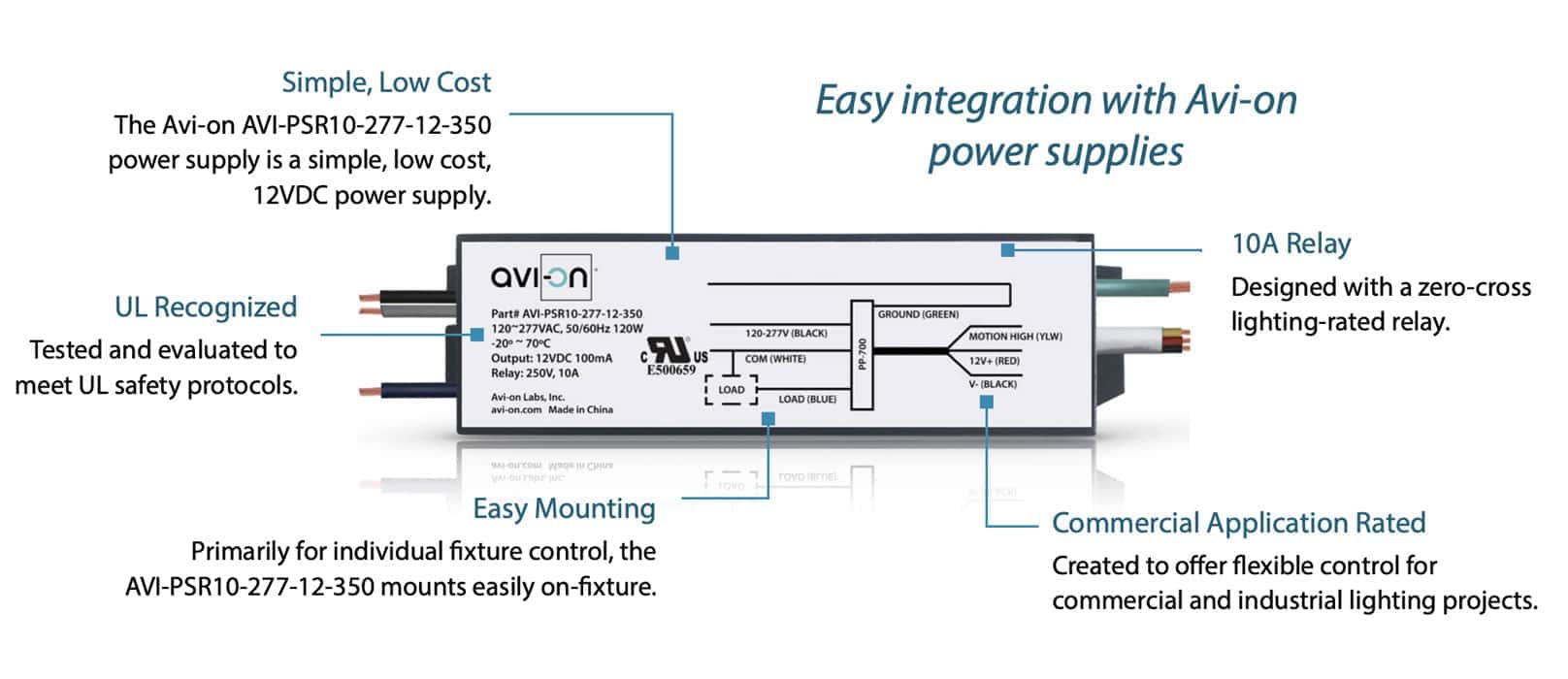 Power Supply SPECIFICATIONS
Zero cross lighting rated relay
100mA 12 VDC Output
UL Recognized
Commercial application rated
UL/cUL Recognized: E341446
Product Type: Low Voltage Power Pack
Input: 120-277VAC, 50/60Hz
Output: 12VDC, 100mA
Short Circuit Protection: Self-Recover
Operating Temperature: -40° C to 80°C
Storage Temperature: -40° C to 80°C
Relative Humidity: 10-95%
Color: Black
Switching Relay: 10A @ 250V, 5A @277V
Power Supply
PARTS & ORDERING
Select a part number from the table listed below

| Part Number | Product Name | Description |
| --- | --- | --- |
| AVI-PSR10-277-12-350 | 12VDC Power Supply With Relay | 12V Power Supply + 10A Relay |
The Avi-on family of products consists of load controllers, sensors, wall stations and connectivity products that work together in one big happy family.  Load controllers manage dimming, schedules, scenes, groups/zones and more while the sensors are able to detect motion with all new state-of-the-art features. These products work seamlessly with the Av-ion cloud to provide a robust wireless ecosystem.